In Pursuit of Happenstance
Two artists, two languages, one pursuit: visual artist Roberta Smith and poet Barbara Ford have married their worlds and created a third, called Happenstance, home to a treasure chest of images in interaction with words as counterpart and counterpoint. Throughout the pages of In Pursuit of Happenstance ravens guide the viewer. There are turtles, flames, Adam and Eve, chickens, genealogy, skeleton keys, a pomegranate, and thirteen bike rides. In Pursuit of Happenstance is concerned with what it is to be human, to be female, to be fully in this world through every wave of wonder, puzzlement, anger, grief, and unfettered joy. Smith and Ford have paired 43 full color images with 32 poems, resulting in a 68-page storybook peppered with allegories, tall tales, elegies, and far more questions than answers. Enter the world of Happenstance and exit at your own pace. You may want to return more frequently than you expected!
Order: here
About the Authors

Originally from the West Coast, Barbara Ford moved to the mountains in central Colorado in 2005. She quickly joined the poets who live with their heads in the clouds and their feet in snowshoes. Her work has been published in a variety of journals, magazines and anthologies, and she has presented her poetry at festivals and conferences throughout the state. Her weekly radio program, Poets and Minstrels, is in its sixteenth year at the Salida community radio station KHEN. As a child her chosen flavor of Lifesavers was butter rum. As an adult, her favorite Lifesaver is poetry.
Colorado native Roberta Smith earned her BFA from Pratt Institute in New York City. She interrupted her subsequent career in jewelry design to sail the world for six years in a small sloop. When she returned to the States, she worked as a graphic designer, children's book illustrator, and muralist before becoming an award-winning mixed media artist. She has exhibited in galleries and invitational shows, and has received a number of awards and prizes over the span of her career. Her work is represented in public and private collections throughout the country. Roberta's inspiration comes from dreams, the natural environment, global events, the beauty and diversity of the human family, and the "outer reaches of inner space".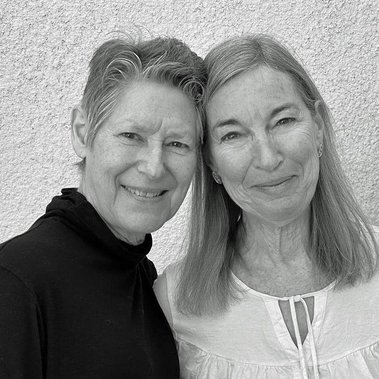 What We Want You to Know
Long before In Pursuit of Happenstance was hatched as a firefly darting between Roberta's house on the river and Barbara's house on True Avenue, Barbara wrote a poem about Roberta's work. The culminating lines of that poem appear on the back cover. The joy of creating this collaboration was founded in the serendipity of our bodies of work frolicking, laughing, frowning, and wiping away tears together. the poems were not written to 'go with' the images. None of the images were created to 'illustrate' the poems. If a certain sense of compatibility arises from the pairings, we have accomplished our pursuit! We offer it to you as the joyful tango of two storytellers whose chosen languages intersect and overlap again and again.